The levers for coaching higher productivity
The levers for coaching higher productivity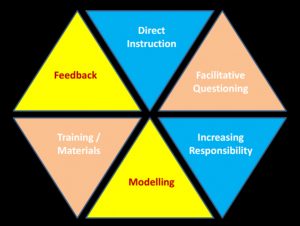 What is the difference between a leader, a coach and a mentor?
One answer is: a leader commands others to produce, a coach teaches people to improve in a specific area, and a mentor is a trusted advisor in a person's lifetime.
All three have their place in business.
Let's look at what makes a great coach.
My favourite definition of what a coach does is:
Transporting people
from where they are

to where they want to be.

Take a look at your job as a manager.
Imagine if you mastered being a great coach.
You'd have mastered the art of efficiently getting your staff to become experts in their job.
This would not only significantly reduce your workload; it would also create a more motivated team member and increase your team's output.

So what are the levers that a coach gets to play with?
It's generally accepted that a coaches 6 most powerful levers are: providing feedback, direct instruction, facilitative questioning, training materials, modelling and increasing the workers responsibility.

Your challenge is to master each one of these.
This includes not just applying them masterfully, but also knowing which one is the best to apply in a given circumstance.

It is an unfortunate fact that most managers don't know how to give good feedback – and yet workers cite this is their most sought after management interaction.
For example, Fred provides positive feedback to Sally for a "great job presenting to a client". With such vagueness, Sally is left wondering what was so great about it. Was it her PowerPoint? Was it her interaction? Was it she started and finished on time? It is also equally true that most people don't know how to take good feedback. For most of us our hairs on our neck raise at the very thought of someone saying they'd like to give feedback to us. Who are you to provide feedback to me? Is that feedback true? Are you attacking me? Successfully navigating these triggers is the key to ensuring that any given feedback is adopted.

Direct instruction is usually best given in a style that suits the person being directed. For example if you are a very task-orientated fast-speaking person, you'll probably deliver instructions well to people also like that. The touchy feely types probably not so – although you'd never know as they'd just go quiet and nod just to not hurt your feelings. Mastering how to communicate effectively to different behaviour profiles will ensure that you're instructions are accepted, acted on and understood.

Facilitative questioning is the most powerful tool a meeting owner has. They request responses that elicit creativity and ideas. Poor questioning closes these off.

Good training materials should be simple to use, search through and act as a reference manual for all staff. The material should be continually updated as scenarios and workflows adapt. It is one of your company's core documents. Besides providing a structure to your business, they allow workers to see how their input impacts on the organisation.
Good training material allows a workers post to be regularly quality checked to see if they are correctly following the processes they were trained on. This ensures consistency of quality.

Scientists have discovered that evolved species are wired to mimic those around them. In basic terms you can see this in the herd mentality, but a more evolved version is called Social Intelligence. It is what makes you smile when others smile around you. By providing an environment where workers can model ideal behaviours and see them being rewarded, you create a very powerful learning environment.

Increasing a workers responsibility gives a challenge, but also variety to the workplace. This ensures business sustainability and if don right minimizes staff turnover. Done wrong will do the exact opposite.

If all this seems a bit overwhelming at first, don't worry – the Executive Performance series will systemically lead you through each lever.
You'll master each one and more.

This is an exciting time for you.
We look forwarder to coaching you to be an even better coach than you are now.


Comments
Comments