Take Control
with Perform Zone
Online recruitment solutions that simplify and streamline
the recruitment process for recruiters and employers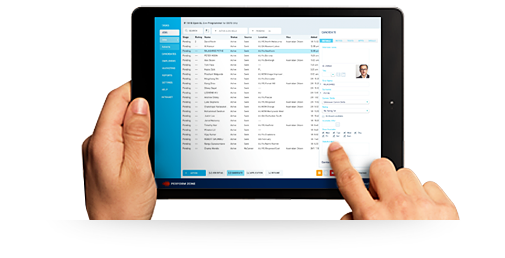 We use Perform Zone for our recruiting services as well as our CRM. It helps us keep our recruiting efforts in line and provides excellent reporting and tracking of activities. As a CRM, it's been very helpful with tracking pre-close and post-close clients.
Easy to use and very flexible. There are a lot of ways to customize it to your company's needs – both on the ATS and CRM sides.
Excellent customer service – every single Perform Zone team member has been professional, friendly and very quick to answer questions and help with solutions. Plus, they do great follow up!
They offer wonderful webinars on how to better utilize the product and provide access to some industry experts that are extremely beneficial.
---
Perform Zone is being used across the organization as the primary applicant tracking system. In the staffing industry, an efficient ATS is instrumental in our success. Perform Zone is very user friendly and allows us to effectively streamline our applicant hire process.
When a company is a new client, Perform Zone does an excellent job of bringing functionality to their client very quickly, usually within a couple of weeks. Their training program is designed so even non-technical users may use their Perform Zone quickly.
The Customer Support Team at Perform Zone off the charts great for jumping on problems quickly and solving them. Sometimes the problems are created by other vendors who link with Perform Zone. Even then Perform Zone resolves the problem. My advice? Expect a happy resolution the rare times you have a problem.
The Development Team at Perform Zone have been around for many years. While the fundamentals of the Perform Zone software are mature, the nature of the ATS software business is constant change. Perform Zone does a wonderful job staying up to date. There is no need to bleed at cutting edge. Give me up to date and stability any day! Perform Zone provides both.
---
Perform Zone is being used company-wide where I work. It makes sure we can retain information for qualified job seekers.
I like it better than other ATS I have used in the past because it utilizes very little system resources. Unlike other ATS I have used it has never frozen my computer or caused it to crash.
It is very customizable. You can easily edit your default view to give you access to any information you may need. This significantly increases productivity.
It has a great search function. You can quickly search most aspects of candidates, job orders, or contacts to find the information you need quickly.
---
After evaluating several other products in the market, we found Perform Zone to be most flexible one out there. We later on visited their site and met their executive. Their transparency and flexibility were keys to our selection process. The data migration from a totally different platform went VERY smoothly as they had done a great amount of preparation. The product has exceeded our expectation. This product is used by several departments in our firm including both front and back office staff members.
Flexible and customizable
Robustness of both technology and the product
Data Migration., Training, and Customer Service
---